A Tile Cleaning Job in Dallas, Texas, Restored a Worn Shower Stall to Mint Condition
October 25, 2016
This homeowner from the Dallas-Fort Worth Metroplex area wanted to put in new, frameless doors to give his shower stall a new look, but he didn't want to go through the exhausting and expensive process of a full remodel. He knew that simply changing the shower doors would have done nothing. Considering the state it was in, the shower needed either a full remodel or the service of tile cleaning professionals. He remembered that a friend had told him about a company that did great work on tile, grout, and hard surfaces, but he couldn't recall the name so he searched for
Dallas tile cleaning
companies on the Internet, and there we were! He clicked on one of the links to our website and after browsing it and reading the reviews, he decided to give us a call to set a date for a free evaluation and quote.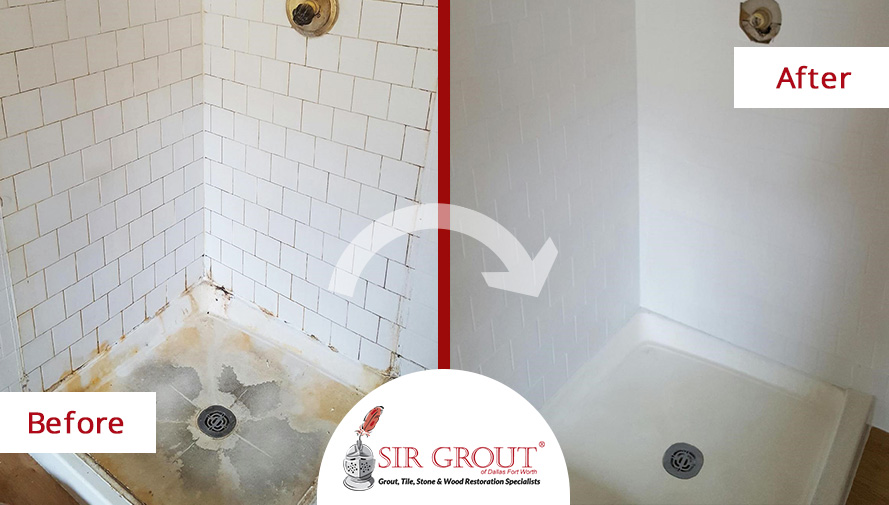 On the day of the evaluation, our crew realized that the shower had a composite base. This type of floor gets very dirty because of its textured surface, which allows soap scum and mildew to build up. Composite floors are very difficult for homeowners to keep clean, precisely because of their rough texture, so it is not rare that people call us for help when their shower floor gets unmanageably dirty. Additionally, the shower wall tiles also needed some TLC. The homeowner was satisfied with our evaluation and with the estimate, and a date was set to carry out the job. He had custom-ordered the doors and it would take about two weeks for them to arrive, so we made the commitment to have the shower ready before that time. That way, he could install the frameless doors upon their arrival.
Luckily, since composite shower bases are very common and used by many residents in the area, we have mastered the technique to leave them spotless. Once soap scum, hard water residue, and mold and mildew have settled in, composite floors must be chemically cleaned and degreased, then steam cleaned. In order to clean the shower tiles and bring them back to life, a non-toxic, pH neutral cleaner was applied, and then the surfaces were cleaned with a gentle, high-speed scrubber to remove all the unwanted dirt. After that, we applied our proprietary product, Tile Armor, to seal the tiles and grout and protect them against future staining. This product is safe for families and pets, as it is nontoxic.
Once we were done, the homeowner was amazed by the result. It looked brand new! He thanked the crew and congratulated us on an excellent job. Now, his frameless doors would perfectly complement his beautiful white shower stall, and all for a fraction of the money and time that a full remodeling job would have required. At a moderate cost, our tile cleaning service removes dirt and grime that cannot be removed with regular store-bought products.
If you are in the Dallas-Fort Worth Metroplex area and need a professional tile cleaning or any other hard surface restoration service, give us a call at
(972) 370-9543
or fill out the "Request a Quote" form at the bottom of this page to set up a date for a free evaluation. Our experts will tell you exactly what needs to be done. Also, if you want to follow our work and keep up with our promotions, find us on
Facebook as Sir Grout Dallas Fort Worth
, follow us on
Instagram @SirGrout
and
Twitter @SGDallasFortWt
.