Grout Cleaning Service in Frisco, TX Revived the Natural Beauty of This Tile Shower
October 13, 2016
This homeowner had recently moved to Frisco, an affluent city in the Dallas-Fort Worth Metroplex. She loved everything about her new home. However, it needed some repairs. She was eager to do the repairs right after the purchase since she was used to having friends over for informal gatherings on the weekends. One of the biggest repairs that needed to be done involved fixing the guest room shower, which, in her opinion, needed a complete remodel. It was worn down and had deteriorated grout lines.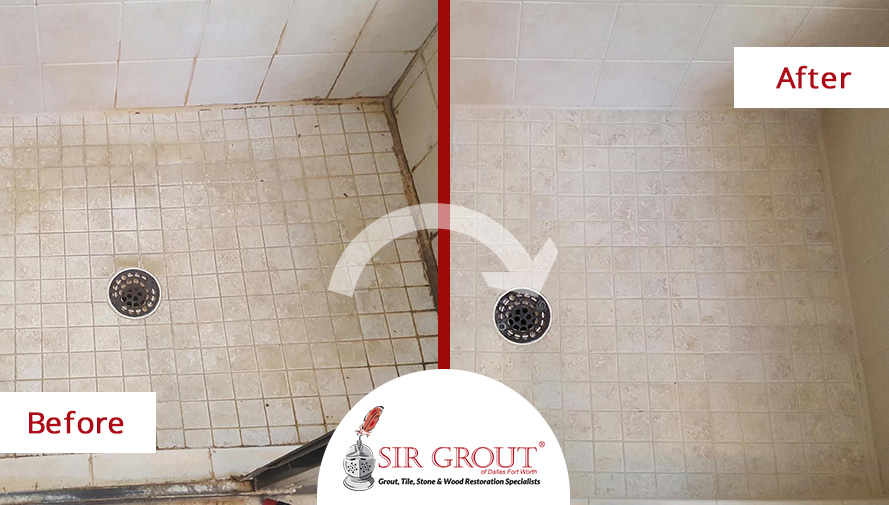 The homeowner knew she had to start looking for a professional company that could solve the situation, but she did not know where to start looking. Therefore, she turned to her best friend for an answer. He advised her to look for a
grout cleaning company in Frisco
first, since maybe it wasn't necessary to carry out a total remodel. The homeowner decided to follow her friend's advice, and she went online to do some research. Fortunately, she found Sir Grout Dallas Fort Worth among the top results and contacted our company to get a free in-home quote.
The day of the appointment, our team arrived at the expected time. Our experts identified the problems as soon as they saw the shower. They told the homeowner that it was necessary to perform a multi-step procedure to revive the appearance of the floor and walls and also prevent further damage. Our professionals explained that they would clean the tiles and grout, seal the grout lines, and repair the shower enclosure and expansion joints. The owner was thrilled to hear that a restoration service was possible, since it meant that she wouldn't have to go through a remodeling process.
The team began the service by applying pH-neutral cleaning products to the tiles and grout. They then used a high-speed scrubber and vapor steam cleaning to remove all the dirt from especially stubborn areas. The experts continued by applying Stainmaster Epoxy Grout to the shower enclosure and expansion joints. This tough, cutting-edge product provides durable results and prevents water from seeping under the tiles, keeping the surface safe and clean.
Even though this thorough cleaning process removes all the dirt from the grout lines, they may still look run-down. Therefore, our highly trained professionals applied our proprietary Epoxy ColorSeal, which is extra tough and is specially designed for surfaces that are highly exposed to water, like showers. This long-lasting solution can make grout lines look like new again and can protect grout from spills, stains, mold, and mildew. Since Epoxy ColorSeal comes in different colors, the homeowner was able to choose an off-white shade that matched the tiles.
After meeting the homeowner's requirements, our team of professionals gave her some recommendations to help her preserve the results, such as using pH-neutral, soap-free cleaning products and cleaning the shower on a regular basis. They also suggested to keep the surface as dry as possible by wiping the excess water after taking a shower.
The customer was very pleased with the results. She thanked the team for saving her from an expensive and uncomfortable remodel and told them she would recommend our service to everyone she knew.
If the grout lines in your home look brownish and stained even after you have cleaned them and you live in Frisco or surrounding areas, do not hesitate to contact Sir Grout Dallas Fort Worth for grout cleaning services. Our highly trained professionals are ready to provide you with top-notch hard surface restoration services at a fair price. Contact us and get a free in-home quote just by filling out the "Request a Quote" form on this page or by calling us at
(972) 370-9543
. Find us on
Facebook at Sir Grout Dallas Fort Worth
, and follow us on
Twitter @SGDallasFtWorth
and
Instagram @SirGrout
. We will be glad to assist you.