No More Etch Marks for this Veined Marble Vanity Top Thanks to a Stone Cleaning in Dallas
August 29, 2017
There is no denial that marble counters embellish any room. They are beautiful stones that, however, need ongoing care to stay in that condition. Marble is highly sensitive to external elements and can suffer from stains and etching in the blink of an eye, especially in bathrooms where personal care products and strong cleaners are used on a regular basis. This professional journalist from Dallas, Texas noticed one day that the gorgeous veined marble vanity top in her master bathroom was covered in dozens of little circular, faded spots that, no matter what products she used, didn't go away.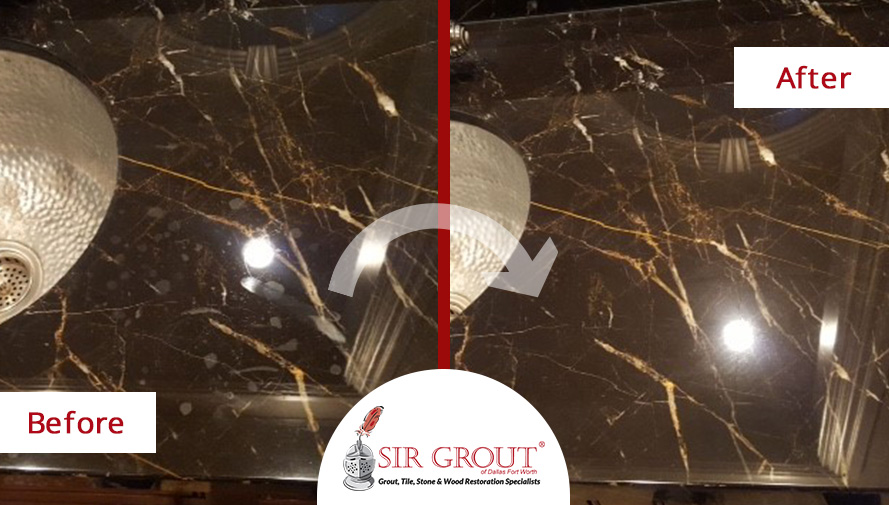 After searching the web for a solution and trying different DIY methods, the Dallas reporter came to the conclusion that the job was beyond her—she needed the help of professionals if she wanted to get rid of those unpleasant stains and recover the marble's previous sheen. While Googling professional
stone cleaning services in Dallas
, Sir Grout Dallas Fort Worth's website appeared among the first search results. The homeowner learned about our hard surface restoration services and discovered the vast before and after stories of previous jobs we had done in the area. Convinced we could help her find a way to restore the marble, she decided to contact us.
Our experts received her call and arranged a free, in-home consultation as soon as our schedule allowed. Our specialists noticed during the inspection that the dull spots the client had talked to us about over the phone were actually etch marks, and they covered a big percentage of the surface, mostly around the sink. Those stains were probably caused by harmful cleaning products or improper cleaning methods.
We also learned during the examination that the marble had only been sealed once when it was installed several years ago. Marble is sensitive to acidic substances and cleaning products, which can cause it to lose its shine. When left unsealed, anything from cosmetics, creams, or other personal care products can damage the stone in a matter of minutes to the extent where no domestic cleaning technique can repair it.
Fortunately, there are professional procedures to restore natural stones and remove the stains, and at Sir Grout Dallas Fort Worth we're the experts. Our team proposed the Dallas resident the following: a deep stone cleaning, honing and polishing, and a sealing procedure. The plan intended not only to remove the etch marks, but also seal and protect the stone from future wear. The client agreed to the services right after hearing our proposal; she was eager to have her old, beautiful marble back.
Our team of hard surface restorers returned to the property the same week to start the job. First, we moved and secured all household items or adjacent surfaces in the bathroom that could get damaged by the procedure. Then, we began the cleaning using Sir Grout's stone cleaner to remove any dirt or sticky residue off the surface—we do this to ensure the surface is dry and free of waxes or coatings so that the upcoming procedures go smoothly and without any setbacks. Next, we used special polishing powders with a low-speed buffer to remove the etch marks and refinish the stone. Finally, we applied StoneArmor to seal the vanity top; this product seals the stone while giving a natural, shiny look. We applied it evenly to the counter with a clean, soft cloth and buffed it onto the surface.
The client was over the moon when she saw her bathroom and noticed there were no more etch marks on the countertop. She didn't expect to find such a shiny, refreshed vanity top; for her, it looked even better than when it was first installed five years ago. She was even more glad when we told her that the marble was now resistant to water, stains, mold and mildew thanks to our proprietary solvent-based sealer. Nevertheless, before leaving, we walked her through a care and maintenance guide for natural stone surfaces such as her veined marble.
Maintenance is essential to preserve any kind of marble surface. Since the rock is so sensitive to acidic substances, we always advise to use a pH-neutral cleaner instead of an acid-based one to prevent stains. Polishing and sealing is the most effective way to prevent marble etching, so we advised her to hire these professional services periodically. Also, our experts recommended using a terry cloth when cleaning the countertop to remove any debris that might cause scratches.
If you're looking for stone cleaning experts, we are at your service! Let us repair and restore your stone surfaces. Call us at
(972) 370-9543
or fill out the "Request a Quote" form on this website to schedule a free, in-home appointment today! If you want to keep up to date with our promotions, subscribe to our
newsletter
. Also, don't forget to find us on
Facebook as Sir Grout Dallas Fort Worth
, and follow us on
Twitter @SGdallasFtWt
and
Instagram @sirgrout
.