No More Grime! See How Our Tile Cleaning Service Worked Wonders On this Ceramic Tile Floor in Dallas, TX
September 16, 2017
Though many people seem to be obsessed with chic natural stone floors, some seem to forget the advantages of having ceramic tile floors. Ceramic, even though it appears to be less lavish, can actually be sculpted to look like various types of stone finishes, achieving the look without spending a lot of money. Another good thing about ceramic tiles is that it is more impermeable (something that other types of stone like marble don't have). This is particularly good in places where water or spills are commonplace, i.e. bathrooms and kitchens. There is but one little thing you should consider: like most floors, ceramic tile ones can get really dirty over time if not enough cleaning and maintenance are provided.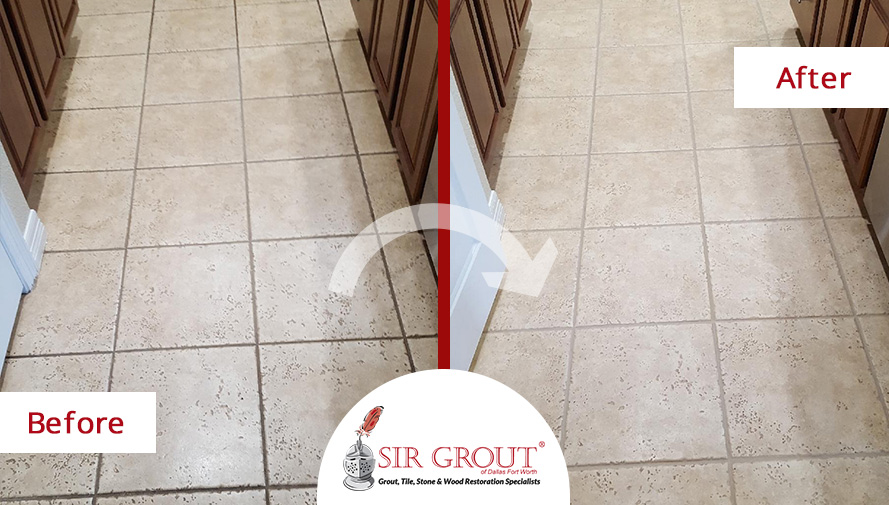 Our latest client had installed a beautiful ceramic tile floor in his kitchen a few years ago, but he was now having trouble as it had become particularly dirty. No amount of detergent and scrubbing was having any effect in restoring it to how it used to look. Since his tiles were sculpted to look like tumbled travertine and were quite texturized, grime had seeped into the tile. This homeowner decided to look for a
Dallas tile cleaning
company that could help him achieve what he wasn't able to do by his own means.
Because of its convenience, this homeowner trusted finding a high-quality hard surface restoration company by surfing the web and looking at the most recommended results on search engines. That was the way he managed to stumble upon Sir Grout Dallas Fort Worth's website. While checking our galleries he was thrilled to find we had a lot of experience cleaning ceramic tile floors. The testimonials and reviews were the cherry on top that made him pick up the phone and call to set up an appointment for a free in-home evaluation.
On the day established for the assessment, our tech arrived in the morning and was enthusiastically greeted by the owner, and right then taken to the kitchen to look at the floor in question. The ceramic seemed to have a layer of dirt covering its surface, especially the small holes and indentations forming the tumbled texture of the ceramic. To remove the grime, clean the grout and leave everything looking like a brand-new installation, our tech proposed Sir Grout Dallas Fort Worth's flagship tile and grout cleaning service. Trusting our tech's expertise, our client agreed to the service and scheduled a date for the job.
On the day stipulated for the job, a team of technicians returned to work swiftly on restoring that once beautiful floor. They first started by spraying the floor with the appropriate type of cleaner and let it sit for a while to stir up the grime buildup. Once the cleaner had effectively broken up the grime in the grout and tiles, our team then used a high-speed scrubbing machine to remove the muck from the whole surface of the floor. For really difficult spots, and to kill any possible appearance of mold or mildew, our techs also used a steam cleaner, and then they wet-vacuumed to leave no residue behind.
With the tiles and grout finally looking impeccable, our techs then worked on making those results last longer by using two of our own proprietary products for sealing grout and tiles. To seal the grout and make it impervious to water, stains and mold, our techs used ColorSeal, which has the added benefit of helping to recolor or even out the color of grout. For the tiles, our techs used our TileArmor, which makes ceramic even less porous and protects it against spills while making it easier to clean.
The change was quite noticeable, and this homeowner was certainly satisfied with the results. He inspected the tiles and the grout meticulously before smiling and thanking the team for a job well done. He said he would definitely recommend us to his friends and to call again once his floor needed maintenance.
Cleaning ceramic tile floors can be a breeze compared to natural stones, as you don't need to be as careful with the type of cleaner you use; but you should still have a method to your cleaning to avoid any accumulation of dirt on the surface. First, forgo all detergents that have soap as a main component, because soap tends to leave a sticky layer that attracts more dirt than it combats. Also—this might seem like an obvious tip, but people often forget—remember to mop your floors with clean water, otherwise you just spread the grime all over your floor. Last but not least, never let your floors air-dry, as you will also let residue dry over your tiles, staining them over time.
If your ceramic tile floor is looking dingy and you have tried every trick in the book, then try leaving it to a professional team of hard surface restoration like the one at Sir Grout Dallas Fort Worth. We have ample experience cleaning all types of floors and we can help you restore even those that seem to have no hope. Call us at
(972) 370-9543
or fill out our "Request a Quote" form to set up your free in-home evaluation. Also, remember to subscribe to our
newsletter
to be privy to our promotions and discounts, and follow us on
Facebook as Sir Grout Dallas Fort Worth
,
Twitter @SGdallasFtWt
and
Instagram @sirgrout
.