This Beautiful, Multicolored Marble Medallion Shines Again Thanks to a Stone Polishing Service in Dallas
January 10, 2017
If there is any way to make a marble floor even more elegant, the solution lies in medallions. They come in a variety of patterns, designs, colors, and textures that together make for wonderful pieces of art and enhance any floor, such as the one these homeowners from Dallas had in their property; it was a gorgeous Versailles-style marble medallion that was installed in the center of their master suite's floor. The inset was designed with five different colors of marble, which ranged from a light tan color to dark green. Along with the cream-colored marble tiles, it gave the bedroom an elegant, interesting appearance.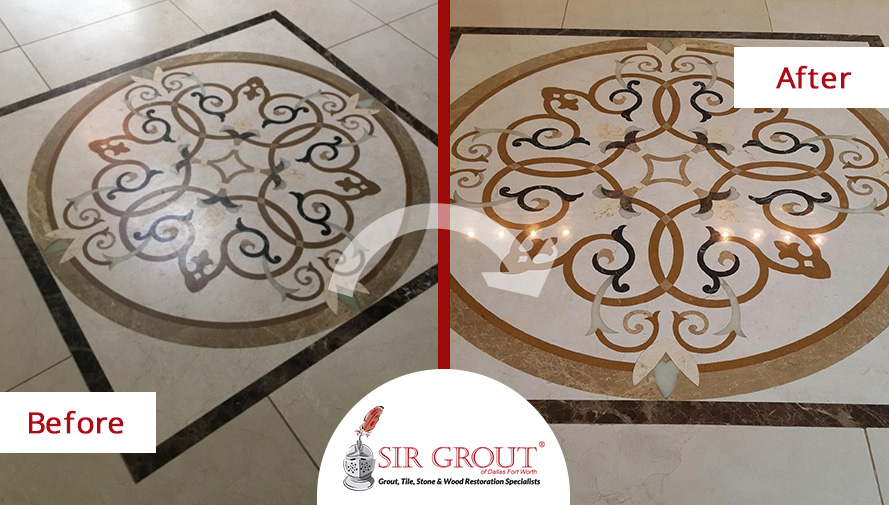 Nonetheless, the couple had never seen the medallion in its full glory since it was already damaged when they purchased the house several years ago. The homeowner's wife, wondering if she could improve the appearance of the piece of art, went online to search for a
stone polishing company in Dallas
with great reviews that could restore the master suite floor, including the medallion. Among the first search results, she found Sir Grout Dallas Fort Worth's website, where she read some testimonials and before and after blog posts that convinced her to call us and set up an appointment for an inspection of their floor.
When our crew visited the homeowners' property for a free in-home consultation, our team of hard surface restoration specialists were amazed by the medallion's design. The inset perfectly matched the entire room's decoration and design; however, years of foot traffic and improper cleaning techniques had deteriorated all its colors, which now looked dull and faded. Fortunately, it was nothing that our stone polishing services could not solve! Our hard surface restorers assured the homeowners that after a honing and polishing process, the marble would look completely different and brand new. The couple accepted our service proposal, so the process started right the following day.
The team began the restoration process by honing the marble floor to remove all stains and etches from the surface – this process is essential for good polishing results. Then, the team applied different polishing powders with a buffer to make the floor shine again. Thanks to its composition, marble can take a very high polish compared to other natural stones like granite or travertine. However, for outstanding results, proper techniques must be performed by specialists who know how to treat all kinds of marble. While light tan marble polishes really well, dark green marble is much harder and difficult to shine. So, our experts treated the floor with the proper techniques to bring each color of the medallion back to life and polished the entire marble floor as well. As the team polished the inset, its colors started to become brighter and more vibrant.
Once the polishing process was completed, the medallion looked even more beautiful than before – the colors were brighter and more attractive. The wife couldn't believe those were the real colors of the medallion. She told us that now she loved her bedroom floor even more thanks to the polishing service.
Before leaving, our team gave the couple some recommendations to prevent damage to their lovely floor. Maintenance for marble medallions is the same as maintenance required for any marble surface. Since this stone is very sensitive to acidic substances – which can cause marble to lose its shine – our team recommended them to use a pH-neutral cleaner instead of an acid-based one. Also, our experts recommended regularly sweeping the floor to remove any debris that might cause scratches on the surface.
Is your natural stone floor also losing its shine? Then, it can probably benefit from a stone polishing service! If you live in Dallas or surrounding areas, call us at
(972) 370-9543
or fill out the "Request a Quote" form to schedule a free in-home consultation today. For more information about our services, subscribe to our
YouTube Channel
, find us on
Facebook at Sir Grout Dallas Fort Worth
, and follow us on
Twitter @SGDallasFortWt
and
Instagram @SirGrout
.