What a Makeover! See How Our Tile and Grout Cleaners Rescued This Shower in Dallas
November 08, 2017
There are few things as unnerving as noticing dark grout lines beneath your little son or daughter as they are taking a long shower. The fear of exposing them to bacteria or germs that can make them sick is what makes most parents be extremely careful when it's time to clean all their bathroom's surfaces. However, even when you are highly motivated to clean your tub or shower, sometimes your efforts won't be enough.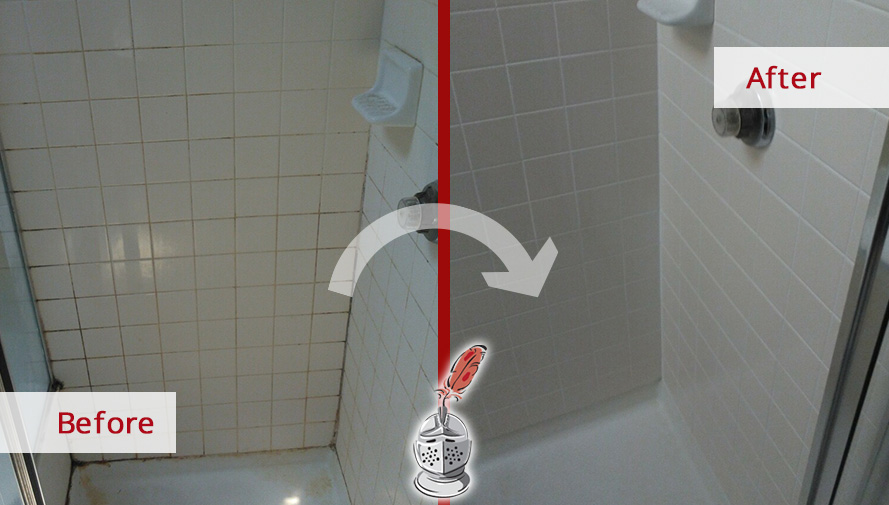 These clients in Dallas were worried about the state of their shower. They had noticed that despite their efforts, some parts of their shower remained grimy, and the grout just kept getting darker. They had a little boy that was prone to allergies, so they were worried about having a possible fungi outbreak. They wanted to avoid exposing their child to the presence of mold, so they decided it was time to hire the best
Dallas tile and grout cleaners
to make quick work of the problems in their shower.
Thankfully, these days you can find whatever kind of service you are looking for on the internet, including some of the best hard surface restorers in Dallas. All you need to do is go on a popular search engine on your computer or smartphone, type in the kind of service you need, and search for the results to find highly regarded providers in your local area. It didn't take our clients long to stumble upon Sir Grout Dallas Fort Worth's website, where they were able to verify our experience and credentials. They placed a call and set up an appointment for a free in-home evaluation.
A few days later, our technician arrived at their residence to do the assessment and offer them the most adequate solution. Our tech observed the shower and was able to ascertain that they had a mold problem that was caused by water seeping into unsealed grout. This could be solved, he assured them, with Sir Grout Dallas Fort Worth's flagship treatment: a tile and grout cleaning service. That way, they could get rid of the mold and grime residue that could set off their child's allergies. Trusting our tech's experience, our clients agreed to the service and scheduled another date for the tile and grout cleaning.
When the day came, our technician returned to quickly work on the shower. He started by using an adequate cleaner and a bleach emulsion to clean the grime and kill the mold as quickly as possible. He let the mix sit for a while before removing it with a scrubber and a vacuum. To get rid of the most deep-seated dirt and mold, he also used a steam cleaner.
Once this painstaking process was finished, it was time to use ColorSeal. This product is a water-based and non-toxic sealant that not only helps recolor and even the appearance of your grout lines, but it also makes them impervious to stains, mold, mildew, and most importantly, water. That is why this product is crucial for preventing mold outbreaks in the future.
With the cleaning done, our technician showcased his work to our clients, who immediately expressed their satisfaction with the results. The mother even said that she wouldn't think twice about calling Sir Grout Dallas Fort Worth again if the shower ever gave them any more problems.
Mold and bacteria feed off of human waste that is often found in showers. Mold and bacteria in great quantities can pose a risk to anyone that uses a bathroom that has an outbreak. To keep this from happening, it is important to prevent water damage by making sure your grout is properly sealed. We also recommend cleaning and ventilating your bathroom regularly.
If you want to keep allergies at bay but have noticed that the grout lines in your shower keep getting mold, you need the help of hard surface restoration experts. Contact Sir Grout Dallas Fort Worth by calling
(972) 370-9543
or by filling out our "Request a Quote" form. Remember to subscribe to our newsletter to find out about our latest promotions. Find us on
Facebook as Sir Grout Dallas Fort Worth
, and follow us on
Twitter @SGdallasFtWt
, and
Instagram @SirGrout
to learn about all things grout.