Goodbye, Soap Scum! See How this Shower in Dallas TX Underwent an Astonishing Transformation Thanks to a Tile Cleaning Service
March 24, 2017
Soap scum is not something anyone wants to look at. Seeing the beautiful stone tiles you carefully selected and paid a high amount for now covered with a mucky frost can be depressing, especially when no amount of scrubbing and detergent are able to wash it off. Such was our client's predicament; she had invested quite a bit on improving her master shower, installing stone tiles with a semi-rustic finish. However, her efforts felt wasted once the scum buildup spread all over the walls and floor. Fearing she would need to renovate, she decided to look for a local tile cleaning service in Dallas to see if something could be done before having to take drastic measures.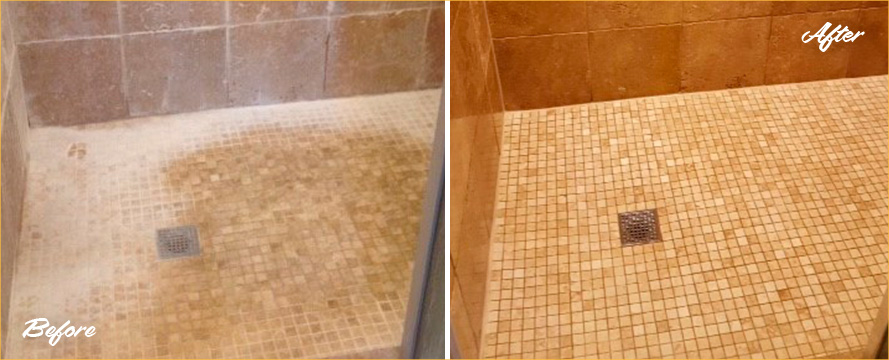 Without wasting any time, she looked online for a reliable and well-reviewed
Dallas tile cleaning
company. Given her search criteria, it was not long before she found Sir Grout Dallas Fort Worth's website among her results. She was instantly drawn to the before-and-after stories, and noting the companies' experience, she decided to give us a call and set up an appointment for a free evaluation.
A few days later, our crew of experts arrived at her residence to make the necessary assessments and offer the most efficient solution. The sight proved to be ghastly—the soap scum had become a thick white layer harboring mold, which could become a health risk for our client and her family. Our crew suggested one of Sir Grout Dallas Fort Worth specialties, a tile cleaning service, to remove the muck, sanitize the bathroom, and restore its former beauty. Our client, trusting our team's knowledge and expertise, agreed to the service.
The truth about soap scum is that it is fairly common because of to two main culprits: hard water and soap. Hard water is the name for water with high mineral content; and when the fatty components in soap react with those minerals, soap scum forms. Soap scum per se is not toxic, but it can ruin the look of tiles, and after a while it can foster the growth of mold, which can become a health risk in the long run.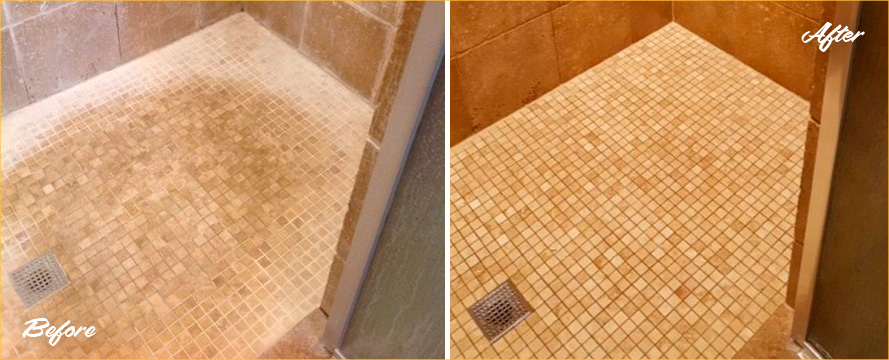 On the scheduled day, the team of technicians arrived at our client's residence and got to work right away. They first applied our own soap-less cleaner with a high-speed scrubber to rinse away the most visible dirt and degrease the tiles and grout. For the hard to reach spots, and to kill all the mold and bacteria, our team used a 275-degree vapor steamer to deep clean the shower. Once the cleaning process was done, the crew applied our proprietary Tile Armor, a sealer known for its durability that protects tiles against staining and water damage.
When our team was ready, we eagerly showcased the results to our client, who was stunned at the sight of her shower. It was a remarkable transformation and you could now appreciate the quality of the texture of the stone tiles since the layer of scum was gone. She thanked all our crew for their efforts and promised to take good care of the shower to prevent another buildup.
Before leaving, our team gave her a few useful tips to combat soap scum efficiently. First, it is important to regularly clean the shower using a soap-less cleaner appropriate for the type of surfaces you have. Second, it is best to avoid using soap in the cleaning process since it leaves a sticky residue that attracts dirt, feeds mold, and stains tiles.
Has your shower become a nightmare of soap scum and mold? Here at Sir Grout Dallas Fort Worth we have the solution. We provide the best hard surface restoration services to the Dallas-Fort Worth area residents. Sign up for a free in-home evaluation calling
(972) 370-9543
or filling out our "Request a Quote" form, and to read more about our services you can follow us on
Facebook as Sir Grout Dallas Fort Worth
, follow us on
Twitter @SGDallasFortWt
and on
Instagram @SirGrout
.