Welcome to the Slate category for the Sir Grout Dallas Fort Worth Blog. Here you'll find blog posts related to slate surfaces that we've restored. See the amazing transformations with the included before and after pictures. Feel free to share and leave your comments.
Published June 23, 2019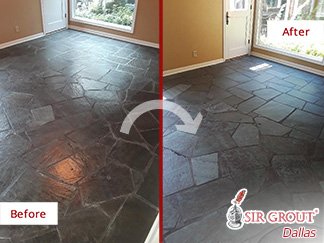 Our Stone Cleaning Experts in Dallas Successfully Revamped the Appearance of This Slate Floor
When our next clients moved into their new house in Dallas, they loved the slate floor it had. The flowing months, the couple performed regular maintenance on the floor and used wax to improve the appearance of the stone. Unfortunately, this produced a negative effect.
READ MORE
Published June 09, 2017
The Colors of this Slate Patio in Frisco, TX Stand Out Like Never Before Thanks to a Stone Sealing
Slate is a wonderful natural stone for outdoor surfaces such as patios or sidewalks. It's a low-maintenance, long-lasting rock that usually comes in a variety of colors and shades, and that is often used in multi-colored arrangements.
READ MORE