Welcome to the honing category for the Sir Grout Dallas Fort Worth Blog. Here you'll find blog posts related to stone and tile surfaces that we've restored. See the amazing transformations with the included before and after pictures. Feel free to share and leave your comments.
Published November 08, 2018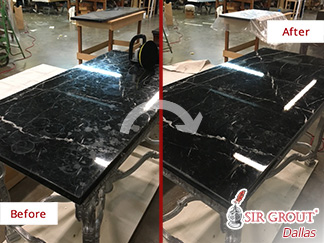 This Damaged Marble Table Was Completely Renewed Thanks to Our Stone Honing Service in Dallas
Marble is a gorgeous, extremely versatile natural stone. From tables to kitchen countertops, the number of options it offers is staggering. Although its beauty and flexibility are major selling points, they are not the only special features this stone provides.
READ MORE
Published August 29, 2017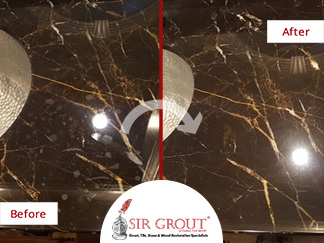 No More Etch Marks for this Veined Marble Vanity Top Thanks to a Stone Cleaning in Dallas
There is no denial that marble counters embellish any room. They are beautiful stones that, however, need ongoing care to stay in that condition. Marble is highly sensitive to external elements and can suffer from stains and etching.
READ MORE