Welcome to the patios category for the Sir Grout Dallas Fort Worth Blog. Here you'll find blog posts related to stone, tile, and concrete patios that we've restored. See the amazing transformations with the included before and after pictures. Feel free to share and leave your comments.
Published September 25, 2019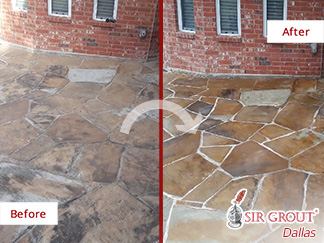 Stone Cleaning in Dallas: Providing the Best Professional Service to Restore and Enhance Damaged Natural Stone Surfaces
A homeowner from Dallas was hosting a party for her family. Everything was ready for the event, but she was not pleased with the condition of the natural stone floor outdoors. The stone looked dirty and unappealing.
READ MORE
Published June 09, 2017
The Colors of this Slate Patio in Frisco, TX Stand Out Like Never Before Thanks to a Stone Sealing
Slate is a wonderful natural stone for outdoor surfaces such as patios or sidewalks. It's a low-maintenance, long-lasting rock that usually comes in a variety of colors and shades, and that is often used in multi-colored arrangements.
READ MORE