Welcome to the Vanity Tops category for the Sir Grout Dallas Fort Worth Blog. Here you'll find blog posts related to stone and tile vanity tops that we've restored. See the amazing transformations with the included before and after pictures. Feel free to share and leave your comments.
Published December 06, 2018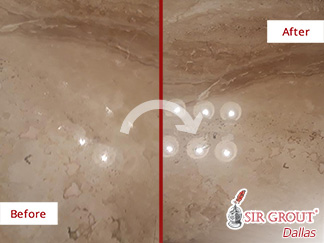 A Stone Polishing Job in Dallas, TX Restored This Vanity Top to Its Former Glory
Most people want their vanity tops to be both durable and capable of standing up to water, soap, and cosmetics. For this reason, some of them avoid choosing porous materials like natural stone for this type of surface.
READ MORE
Published August 29, 2017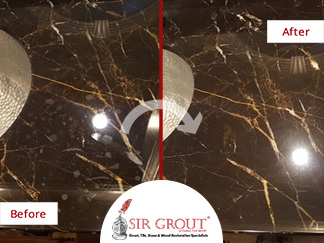 No More Etch Marks for this Veined Marble Vanity Top Thanks to a Stone Cleaning in Dallas
There is no denial that marble counters embellish any room. They are beautiful stones that, however, need ongoing care to stay in that condition. Marble is highly sensitive to external elements and can suffer from stains and etching.
READ MORE