Our Team of Experts in Dallas Went Above and Beyond to Rescue this Shower from Serious Water Damage
July 17, 2017
Even though our expert team is known for our
hard surface restoration services in Dallas
, we surpassed this client's expectations with a service we do not normally perform: tile replacement for his white ceramic shower. At Sir Grout Dallas Fort Worth, we focus primarily on tile, grout, stone, and wood cleaning, as well as sealing services. However, we couldn't help but assist this homeowner who was about to lose his shower due to water damage.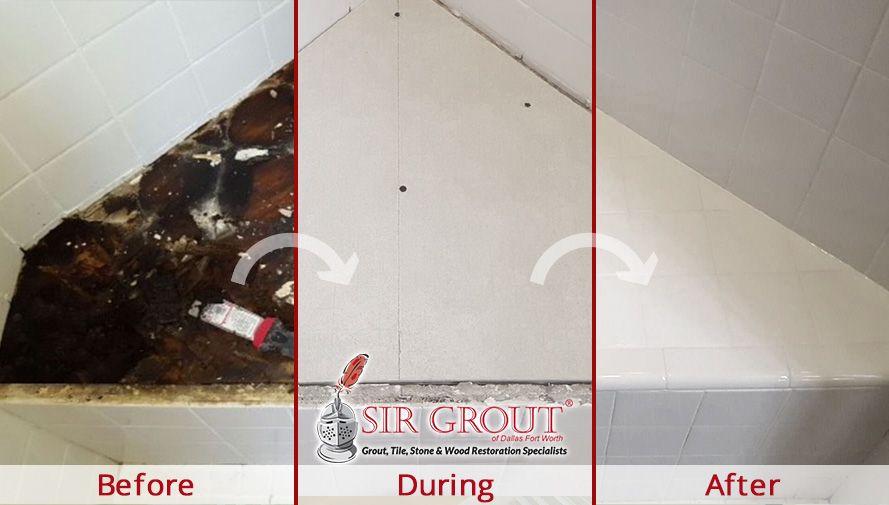 This homeowner was a Dallas resident who noticed one day that a tile from the corner seat of his white ceramic master shower was sinking in, making the surface uneven. He thought that the tile simply needed to be removed and add a thin-setter under it, so it was back to the same level as the other ones. The client wasn't aware of the major deterioration problem that the tiles were hiding underneath the surface.
The Dallas resident was one of Sir Grout Dallas Fort Worth's regular clients who, upon repairing the dipped tile himself, called us to restore the grout lines of the rest of his master shower. He contacted us from time to time to refresh and re-seal the granite floor and countertops in his kitchen, but he hadn't reached out to us before requesting our tile and grout restoration services for any of his bathrooms. We heard a little of his story over the phone and gladly agreed to come by his property that same week to examine the bathroom.
During our visit, the client asked us if we could check out the repair he did to the tile. We noticed that ¼-inch of the grout had come out of the joint, which can be extremely dangerous for the shower structure if water had seeped through. A thorough inspection of the shower showed that the structure under the seat surface had decomposed due to water damage; plywood had been installed to support the seat, but because there wasn't any kind of water sealant, the material had rotted. Water and plywood are not a good combination for any surface because the wood can swell and cause tiles to fall, as it happened to the dipped tile in this shower, and eventually damage the entire shower structure over time.
Luckily for the client, the major structure of the seat had not yet been ruined. Nevertheless, the shower needed more than just a grout cleaning or re-caulking service to be repaired. All the tiles above the seat had to be removed, the seat base itself had to be rebuilt, and new tiles needed to be installed. Although these kinds of services are not among the ones we offer at Sir Grout Dallas Fort Worth, our team of experts had the required skills to repair the seat and leave it as good as new. For this long-time client, we were willing to do more than expected and restore the deterioration of his shower. The client trusted in our abilities and knowledge and he asked us what we needed to do to accomplish the job. We told him that he didn't have to worry since we could take care of everything and we could start working as soon as possible.
Our team of experts were able to rebuild the shower seat with cement board—a better and more durable base for ceramic tiles than plywood—and install new white tiles to complete the repair. Afterward, we performed our standard grout cleaning and sealing services to refresh the shower and make it more resistant to water damage. First, we used our own Sir Grout tile and grout cleaner to remove the dirt and grime. Then, we made the grout repairs that were necessary, and we applied ColorSeal, a thick, water-based, acrylic sealer that makes the grout stain-, water-, mold-, and mildew-resistant. Finally, we buffed on our Sir Grout Tile Armor penetrating sealant over the entire shower to protect it against future day-to-day wear.
The job came in the nick of time… a few more weeks and the damage would have spread and been much worse, resulting in the removal of the entire wall structure and more. The client was relieved he prevented such a disastrous outcome by reaching out to us. His problem was not only solved, but he also had a clean, good-looking shower to show off to his family. After seeing the results, he decided to add grout and tile cleaning services for his showers to the list of his yearly home improvement plan.
Sir Grout Dallas Fort Worth is committed to help every customer in the best way we can as long as it is within our capacities. When the homeowner knew that just a ¼-inch of missing grout had led to his shower almost falling apart, he regretted he hadn't turned to our services sooner, but was glad we came up with a great and practical solution. We suggested to periodically check for any leaks and cracked or missing grout, and to call us at the earliest opportunity if he found any. For routine cleaning tips, we recommended always using a pH-neutral cleaner because they are safer on grout. Also, to prevent future water damage, regular sealing is essential, therefore it's best to hire a professional grout sealing company.
If you are searching for a tile and grout cleaning company in Dallas that can transform your floors or any other type of hard surface, at Sir Grout Dallas Fort Worth we have your back! We make sure your tile and grout problems will be solved. Call us at
(972) 370-9543
or fill out the "Request a Quote" form on this website to schedule a free, in-home consultation today. For more care and maintenance tips, subscribe to our
Youtube Channel
, find us on
Facebook at Sir Grout Dallas Forth Worth
, and follow us on
Twitter @SGDallasFortWt
and
Instagram @SirGrout
. To keep up to date with our promotions, don't forget to subscribe to our
newsletter
.