A Perfect Grout Sealing in Dallas Gave This Shower an Amazing New Look
October 05, 2023
A resident from Dallas wanted to rent his property. He was getting ready to show the unit to several potential tenants, but he noticed a problem with the shower. Since the surface hadn't receive regular maintenance, it had suffered deterioration. The tiles looked run-down and the grout lines had an unsightly appearance. The owner needed a fast solution, so he decided to look for a professional hard surface restoration company. Luckily, one of his friends told him about Sir Grout Dallas Fort Worth.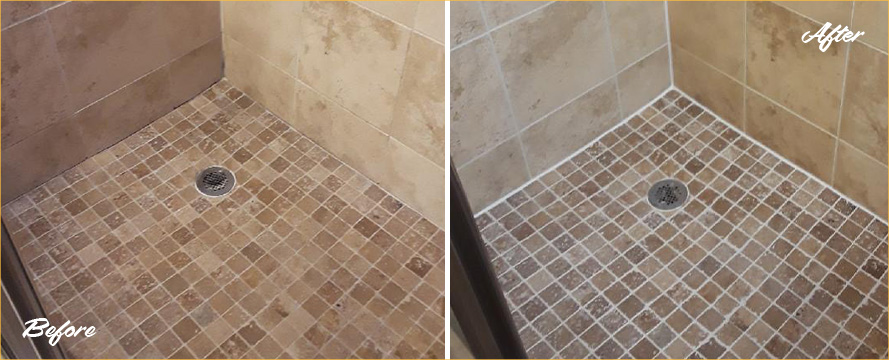 She was a loyal client and immediately recommended
Dallas Grout Sealing
services, saying we had done a great job restoring her floors. She advised him to visit our website to get more information. As his friend suggested, he went online to visit our site. After browsing our
picture gallery
, and reading all the positive reviews we receive from our satisfied customers, he was convinced we were the best option. He called us, explained the situation, and requested a free assessment.
The in-home consultation began a few days later, as we visited the property to inspect the shower. We immediately noticed the problems. The grout lines were full of dirt, giving the entire shower an unsanitary appearance. Upon closer look, we learned the surface needed sealing. We explained that grout can absorb water, dirt, and grime, which can cause damage and deterioration. It's necessary to apply a special sealant to prevent future problems.
After finishing the assessment, we concluded regular cleaning methods wouldn't provide an effective restoration. This job required Sir Grout's professional process and high-end equipment. We proposed a grout sealing service to improve the shower and give the surface a resilient protective shield. After hearing the offer and seeing the results of the products we tested on the surface, the owner hired us without hesitation.
When we returned, we were ready to restore the shower. To achieve our goals, our grout sealing process follows a series of thorough steps. We started by cleaning the surface using our exclusive cleaner and a high-speed scrubber. Our product is pH-neutral and doesn't leave a residue, so it won't cause any damage. After effectively scrubbing out the soiling, we continued with the grout repairs. Regular cleaning is ineffective against badly stained or damage grout, but our professional procedure can address any issue. After working on the entire surface, we gave the grout lines a wonderful new look. Once the surface was spotless, it was time for the sealing process.
To ensure long-lasting results, we sealed the grout lines using Sir Grout's ColorSeal. Our top-of-the-line sealant provides unmatched protection. It wards off dirt, grime, and other external agents, making cleaning routines easy and fast. ColorSeal gives the grout a uniform color and a brand-new appearance, improving the surface tenfold. It comes in a wide range of colors, allowing the owner to match the tiles with the grout. When we finished all the steps, the restoration had been successful and the shower looked perfect. We called the owner to show him the results.
Our client was beyond thrilled with the restoration we had accomplished. He was very happy because with a clean, new shower, he would be able to rent the property easily. After thanking us, he told us our performance surpassed all his expectations and assured us he would recommend Sir Grout Dallas Fort Worth to everyone.
Showers require proper maintenance and care. As a result of heavy wear and tear, these surfaces can deteriorate quickly. For this reason, we always take time to give our clients useful recommendations to keep these difficult areas in top condition. To minimize the accumulation of dirt and grime, we suggested establishing a weekly cleaning routine. For optimal results, perform this task using only pH-neutral, soap-free cleaners like
Sir Grout's Natural Hard Surface Cleaner
. Our product is made with high-quality ingredients and offers many benefits. It's non-toxic and safe for everyone in the house, including pets.
Avoid using soap-based cleaners because they leave a residue that seeps into the grout lines. This can cause degradation and lead to severe problems like structural damage. We don't recommend cleaning solutions with acidic properties either. These substances contain harsh agents which can harm the surface, producing stains, discoloration, and other issues.
To prevent mold and mildew growth, it's necessary to keep the area well-ventilated and dry. After using the shower, leave the door ajar or window open. Always dry the surface using a squeegee, a towel, or a terry cloth rag. Squeegeeing regularly is also one of the best ways to keep showers spotless. Bar soap leaves a reside that can produce nasty stains. Even if the shower has not presented this problem, we recommend using liquid soaps, a safer alternative to keep this issue at bay.
Sir Grout Dallas Fort Worth always provide reliable solutions. As you can see in the before and after pictures, our certified technicians can revamp your damaged shower with our superb grout sealing process. As a leading company in the hard surface restoration industry, we have years of experience giving countless satisfied customers outstanding results. To contact us, call
(972) 370-9543
or click the "Schedule a Free Quote" button for a free in-home consultation. Please don't forget to subscribe to our
newsletter
if you wish to receive our latest info and promotions.