This Damaged Marble Table Was Completely Renewed Thanks to Our Stone Honing Service in Dallas
November 08, 2018
Marble is a gorgeous, extremely versatile natural stone. From tables to kitchen countertops, the number of options it offers is staggering. Although its beauty and flexibility are major selling points, they are not the only special features this stone provides. It is also exceptionally sturdy and durable. Marble surfaces can last for many years, but they require proper maintenance and care. This is because the stone has a porous composition and it is vulnerable to acidic substances and harsh chemicals. The damage these liquids can cause on the surface might be severe. For instance, leaving juice or wine spills on a table can produce the appearance of dull spots. This is known as etching. When this happens, the stone loses its natural shine and allure. To prevent this issue, sealing is necessary upon installation. The sealant requires periodical checking and replacing, otherwise the surface will absorb all sorts of liquids, causing etch marks to appear.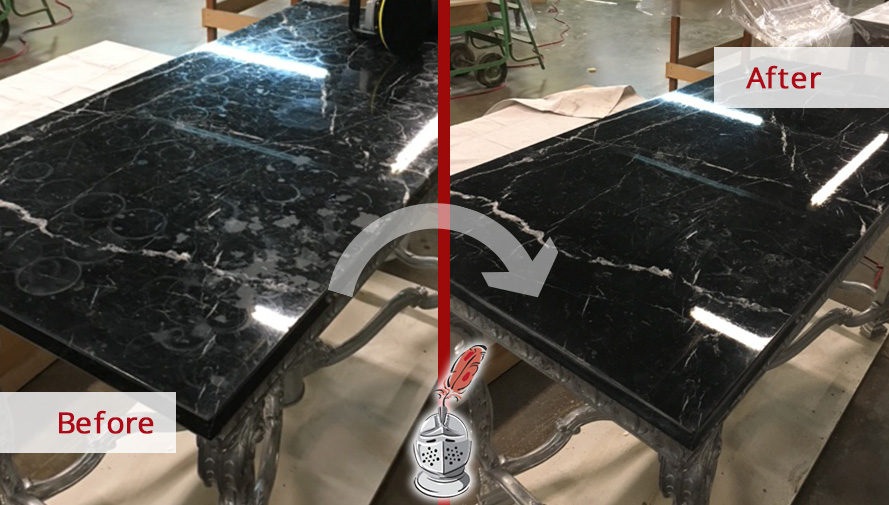 Stone honing is necessary when the damage is severe. Professionals use high grade pads to smooth the surface and remove etches, scratches, and stains. With this process, the stone acquires a matte finish. If the owner prefers a semi-shiny or glossy effect, then polishing is the next step. This displays the vibrant colors of the marble and brings back its luxurious look. Our next client had a marble table that had suffered serious wear and tear over the years. It had prominent etch marks and stains. It looked dull and unappealing. The owners tried everything to remove the blemishes, but nothing worked. They only saw negative results when they used products like vinegar and ammonia. After considering their options, they decided to look for professional assistance. Thankfully, they found our
Dallas Stone Honing
service and we successfully restored the table and gave it a brand-new appearance.
They heard about Sir Grout Dallas Fort Worth from one of their friends. He recommended us, giving high praise for the restoration we achieved on the stone floors of his house. He suggested checking out our website to get more information. They followed his advice and visited our site. When they were browsing the homepage, the
picture gallery
got their attention. They were relieved to see all the stone surfaces we restore every day. The quality of our work impressed them. After going through the pictures, they read testimonials from our previous satisfied customers. The owners were pleased because all our feedback was positive and our clients were happy with the results we provide them. Everything they read and saw convinced them we could solve their problem. They filled out the "Request a Quote" form and scheduled a free consultation.
A few days later, we arrived at their place to begin the evaluation of the table and to offer the most effective solution for the problems. After briefly greeting the owners, we proceeded with the assessment. At first glance, we noticed the severe etching and scratches on the surface. We told the owners that using harsh cleaning products and leaving spills of acidic substances had caused these problems. We could also tell the surface didn't have sealant, which can lead to a myriad of issues. We explained that unsealed marble can absorb cleaner residue, oils, water, or any splash of liquid left lingering for long periods of time. This produces etching, which is the reason the stone looked dull. We pointed out that this material is highly susceptible to these kinds of damages. When this happens, the problems can only be rectified with proper maintenance, professional treatment, and high-end honing pads.
We offered a stone honing and polishing service to refinish the surface and remove all the damages the table had suffered over the years. We would also seal the stone with our special sealant. We assured the owners that after we finished our work, their marble table would look shiny and beautiful once again. They were pleased with our assessment and the solution we proposed. They immediately agreed to set up a date for the job.
We returned on the scheduled date to begin the restoration of the table. Our stone honing and polishing process requires special equipment and the most efficient methods. It consists of several steps. We started by cleaning the surface using a stone-safe cleaner and a high-speed scrubber. This exclusive product now has an enhanced formula that can help inhibit the growth of bacteria and fungi for an extended period of time after application. When the table was no longer dirty, we got our honing pads ready. Before polishing, we needed to hone the stone. We made sure the marble was prepared for the honing process. We ran three sets of honing pads, each with increased levels of grit. We continued grinding until all the etches and scratches were completely removed. Once this was done, we began the polishing process.
To polish the stone and achieve the gloss desired by our clients, we increased the level of grit and grinded using a series of abrasive materials and our special powders. When this was completed, we finished by sealing the stone with our exclusive Stone Armor. This sealant is especially useful on marble because it protects the stone from the wear and tear of heavy, daily use. Our sealant wards off damages from all sorts of liquids, reducing deterioration signs, such as stains, discoloration, and etching. It also enhances the marble by giving it a brand-new look. After our process and with the right maintenance, the great condition of the table would last for a long time.
When we finished all the steps, the stone had been fully restored and the table looked amazing. We then invited our clients to see the outcome of our work. The owners saw the table and they were amazed because it looked brand-new. Once again, it had a beautiful glossy appearance. The owners were pleasantly surprised because this incredible transformation was cost-effective and it only took one day. The owners were beyond thrilled with the results. They said our performance had gone beyond their expectations. After thanking us, they stated that from that point on, they would recommend our services to all their friends, family, and neighbors. Sir Grout Dallas Fort Worth had become their company of choice for hard surface restoration.
We always take time to teach our clients how to perform proper maintenance on their restored surfaces. Before leaving, we gave the owners some suggestions to perform safer and more effective cleaning routines. We recommended using pH-neutral soap-free cleaners like
Sir Grout's Natural Hard Surface Cleaner
. Our product doesn't leave residue and won't cause damage to the tiles and grout. It now has ingredients that can help provide protection against bacteria and fungi. It is also important to keep the surface as dry as possible. Spills shouldn't be left lingering for long periods of time. If any spill occurs, it should be removed immediately using a towel or a terry cloth. We suggested they avoid using abrasive tools like steel wools because these can leave scratches. When scrubbing the surfaces, excessive force is not necessary after our sealants are applied. The owners will be able to clean the table faster and easier.
We do not recommend using soap-based or acidic cleaners. These products contain harsh agents that can deteriorate the natural stone. They leave residue that causes damage to the marble. These cleaners produce etching on the stone, leaving ugly dull spots that can't be removed with conventional cleaning methods. Additionally, we suggested they avoid using dirty mops or cloth rags when cleaning the table. Rinsing a dirty rag into the cleaning solution leads to grime build-up. For this reason, only clean rags should be used. These easy to follow recommendations, our top-notch process, and our superior products would help keep the marble shiny and beautiful.
It is possible to restore your natural stone surfaces and bring back their beauty with Sir Grout Dallas Fort Worth's professional help. Our award-wining stone honing and polishing processes can leave any surface fully protected and gleaming beautifully. We provide top of the line services that are effective in all kinds of settings. As a leading company in the hard surface restoration industry, we have years of experience and the most qualified technicians at your disposal. Don't hesitate contacting us by calling
(972) 370-9543
or by filling out our "Request a Quote" form for a free in-home consultation. We will attend you gladly. Also, keep up to date with our latest info and promotions by subscribing to our
newsletter
.
If you found this article helpful then let us know in the comments section below. Likewise, feel free to share it using the share options below. Want us to cover another topic of your interest pertaining to Hard Surface Restoration? If so, then like us and follow us on social media, and post to any of our social media profiles the topic you'd like us to discuss:
Facebook Sir Grout Dallas Fort Worth
,
Instagram @sirgrout
, and
Twitter @SirGrout
.