Our Tile and Grout Cleaners Gave This Shower in Dallas, TX, a Stunning Renovation
September 12, 2023
Cleaning tiled surfaces can be difficult, and it can become tedious and daunting. For instance, standard methods can become ineffective depending on the damage, and the solution might require more than a store-bought cleaner and some DIY guides. A resident from Dallas, TX, was not happy with the condition of his shower. Over the years, the surface deteriorated and looked dingy and run-down. The owner cleaned the area regularly, but nothing he tried worked. After some consideration, he decided it was best to look for professional assistance.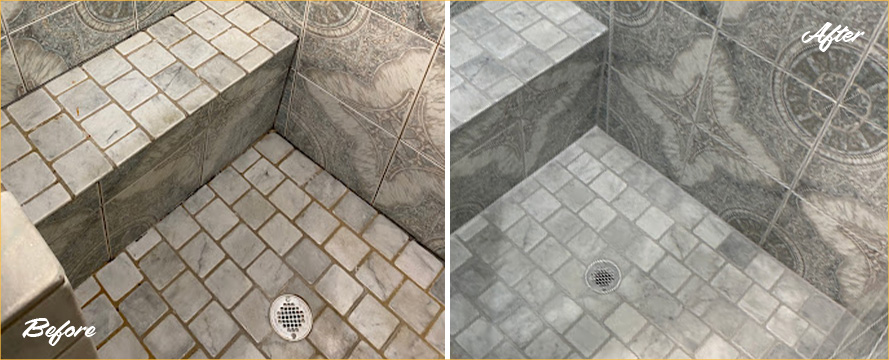 Thankfully, the solution was a quick internet search. Typing
tile and grout cleaners in Dallas, Texas
, on his search engine, led him to Sir Grout Dallas Fort Worth, and on our user-friendly website, he got all the information he needed. After browsing our site, reading some of our blogs, and going through the amazing reviews we receive daily, he was convinced we were the right choice. Hoping to solve his problem, the owner filled out the "Request a Quote" form, asking for a free evaluation.
Following his request, we arrived and provided the in-home consultation. The owner welcomed us and we began the assessment. As we entered the shower, we noticed the problems. The grout decayed, and it had acquired a dark tone. Likewise, the tiles were shabby, giving the area an unsightly appearance. To add to this, the grout needed sealing. It was necessary to address this problem because this common mixture is porous and can absorb external agents, which can cause more damage. To prevent further deterioration, it was imperative to apply a special sealant.
The problems had been discerned and we had the insight to discuss a solution with the owner. Since we had determined that the restoration would require professional attention, we offered our tile and grout cleaning services. With our top-notch renewal process, we would address the issues, improve the condition of the surface, and give the shower a refreshed look. Before providing a quote, we proved the efficacy of our methods by performing a brief test. The owner loved the results, and he was happy with the offer, so he immediately hired us.
Shortly after, we were ready to return to begin the restoration. To ensure optimal results, we followed a thorough multi-step process. First, we cleaned the surface using our exclusive cleaner. Our product won't cause any damage because it doesn't leave a residue, and it's made with top-quality ingredients. After that, we steam-cleaned the area and removed embedded dirt. Once everything was spotless, we took care of the grout.
When this vulnerable component is severely damaged, stained, or discolored, regular cleaning won't be effective, so the restoration might become challenging. For this reason, many homeowners find this chore troublesome, a time-consuming task they would rather avoid. Sir Grout Dallas Fort Worth, on the other hand, has the tools and expertise to fix all these issues. We painstakingly worked on the entire area, giving the grout lines a beautiful look. To finish the job, we continued with the sealing process.
For this final step, we sealed the grout lines with Sir Grout's flagship sealant, ColorSeal. Our high-quality product offers unmatched defense, warding off dirt, grime, and other external agents. This reduces deterioration and makes cleaning routines easy and fast. ColorSeal gives the grout a uniform color and a brand-new appearance, improving the surface tenfold. It comes in various colors, so our clients can match the tiles with the grout.
Our excellent performance yielded an awesome restoration, the damage had been rectified, and the surface had received a complete overhaul. It was time to call our client and show him the results. Upon entering the shower, the owner expressed his surprise and joy. He was beyond thrilled because everything looked perfect, much better than he imagined. Happy with our work, he sincerely thanked us, and he even took the time to leave us a glowing review on Google:
See What Others Are Saying About Us

Russell H - Dallas, TX
August 28, 2023
Manny turned my 20 year old grout and tile shower into to a new masterpiece. Very detailed, takes his time, and pays close attention to quality work. He's a skilled artist at restoration. Professional and polite. I'm already figuring out more jobs for him. Worth every penny. I highly recommend Sir Grout!
via:

More Testimonials
Showers are subjected to constant use. Due to this heavy wear and tear, they can deteriorate quickly and require proper care. Following our recommendations is essential to keep these challenging areas in top condition. We suggested setting a weekly cleaning routine using only pH-neutral, soap-free cleaners like
Sir Grout's Natural Hard Surface Cleaner
.
Our product offers many benefits and provides wonderful results, surpassing any other option on the market. It's also non-toxic and safe for everyone in the house, including pets. We don't recommend using soap-based substances. These products contain harsh agents that can damage the surface. In addition, they leave a residue that seeps into the grout, which leads to stains, discoloration, and other issues.
Mold and mildew are dangerous, so it's important to take measures against their growth. These fungi thrive in damp areas, live in darkness, and feed on soap scum. To prevent this problem, keep a light on, provide a source of fresh air by leaving the door ajar or window open, and always dry the surface with a squeegee, a towel, or a terry cloth.
Is your shower dingy and unpleasant? Don't worry, Sir Grout Dallas Fort Worth's tile and grout cleaners can bring back its beauty. Don't wait any longer and contact us today by calling
(972) 370-9543
or by filling out our "Request a Quote" form for a free in-home consultation. If you want to see more, please check out our
picture gallery
, and consider subscribing to our
newsletter
so you don't miss our latest promotions and updates.