Tips to Restore Your Bathroom's Hard Surfaces After Water Damage
April 05, 2023
Some people pay little to no attention to the state of their caulk and grout.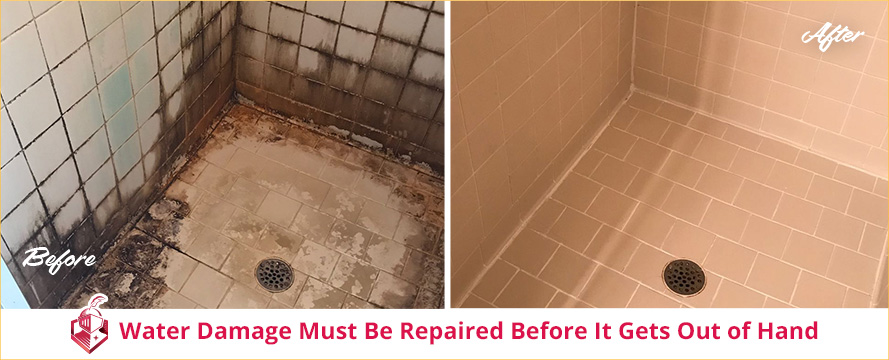 However, when the fixtures surrounding tubs, showers, sinks, and backsplashes are moldy, peeled, or cracked, you should immediately take action to prevent further damage that can result in costly repairs.
Exposed caulk and grout can allow water to seep underneath the tiles, resulting in severe water damage. Additionally, the excessive accumulation of moisture between your tiles can create a safe environment for mold and mildew growth, which could be harmful for you and your family.
For this reason, water damage must be immediately taken care of before it gets out of hand. Below, you will find a complete guide with everything you need to know about water damage, how to fix it, and how to prevent it.
What is Water Damage?
Unfortunately, water damage is one of the most common causes of property loss. When water escapes the plumbing system, it can come into contact with your walls, ceilings, floors, and other structures in your home.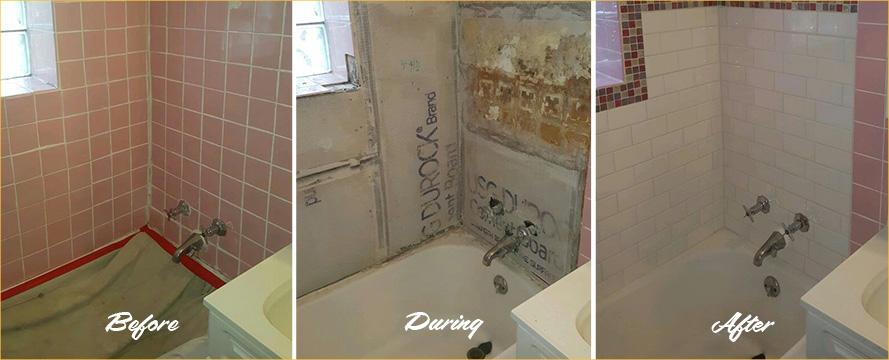 Over time, the excess moisture will cause the water-damaged areas to rot and become moldy. For example, in the picture above you can see how there was water behind the tiles, which caused the backer board to deteriorate.
If left unattended, the damage could get worse and may require expensive repairs. As in this case, sometimes there are no matching colors available to replace the damaged tiles.
The Main Causes of Water Damage
The leading causes of water damage in a bathroom are:
Issues with the plumbing system, such as leaks
Damaged caulking
Cracked grout between tiles
Uneven shower drain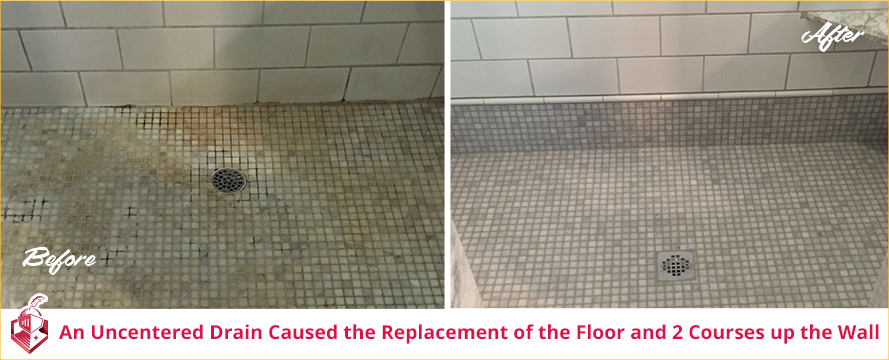 Once you've learned about the causes of water damage mentioned here, you can prevent it from happening.
How to Detect Water Damage
Here is a list of things you should look for to detect water damage in your bathroom:
Musty, damp smell
Moldy grout and caulk
Movement of tiles when you apply pressure to them
Bulges on tiles
A hollow sound when the tile is tapped with something solid
Mold and stains on walls and floor outside the tub or shower
Grayish crust building up on the joints of your shower floor
Corrosion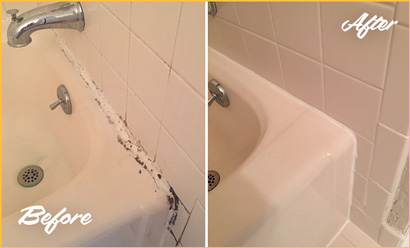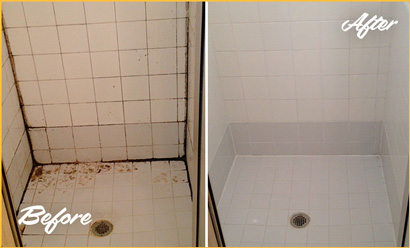 How to Repair Water Damage
As you can see, water damage is not an easy thing to handle, and the consequences can be devastating. It is best to put your bathroom in professional hands to avoid expensive repairs. However, when it comes to water damage, there isn't a one-size-fits-all solution because each case can be different.
Moreover, repairing the damage can be as simple as removing the old caulk and recaulking, or it can imply renovation of the affected areas, as was the case of this bathroom (picture below), where the backer board, grout, caulking and some tiles were removed and then replaced.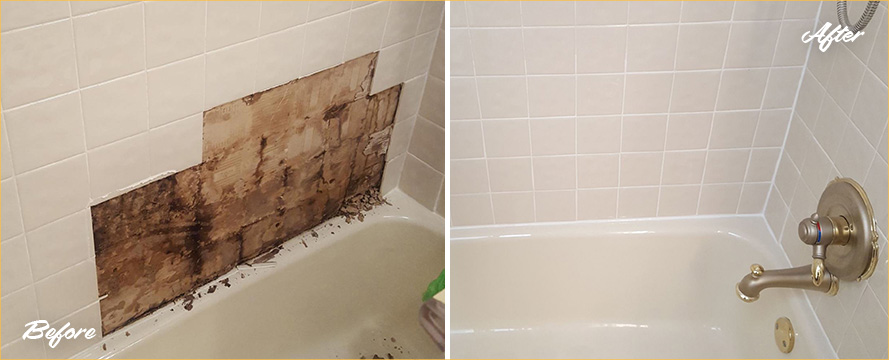 The True Costs Behind Water Damage
The costs of restoring water-damaged areas are determined by several factors:
The cost of eliminating the source of moisture
The extent of the damage
The affected material
The need for tile, caulk and grout replacement
How to Prevent Water Damage?
To prevent water damage, it is important to have your tiles and grout sealed and all caulking in optimal conditions. A professional
tile and grout cleaning and sealing
paired with a caulking service can help prevent water damage.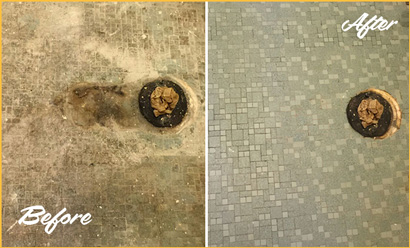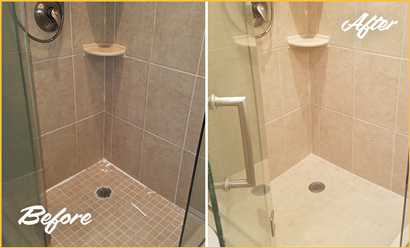 Our specialists will clean your tile and grout by applying our proprietary cleaner and by using a high-speed, gentle scrubber to extract the dirt from your surfaces. We then proceed to perform any necessary grout repairs and remove old or damaged caulk.
Next, we use our unique grout sealer, ColorSeal, which fills porous grout and protects it from exposure to the damaging agents in a shower by making it water-, stain-, mold-, and mildew-resistant. After this process, we perform our caulking service. Finally, to protect your tiles from spills and stains, we use our proprietary Tile Armor sealer.
When your grout lines and caulk are moldy or stained, it might be a sign of water damage. Here at Sir Grout Dallas Fort Worth we have the necessary tools and expertise to restore your hard surfaces and avoid costly repairs. Call us at
(972) 370-9543
or click the "Schedule a Free Quote" button on this website to schedule a free in-home consultation today. If you want to keep reading about wonderful tips on how to keep your hard surfaces in top condition, do not forget to subscribe to our
newsletter
.